Want to enter the digital mainstream? Don't want to deal with the technical requirements of software and expensive expertise?
I build websites to empower you, the user.  I provide a consultation process that clarifies your needs, chooses the look and customizes your online outreach.  This can mean anything from a simple search-friendly "brochure" site to more interactive, full-featured blog, portfolio, gallery or  community sites, all at remarkably reasonable fees.  And when it's built to your specifications, I hand you the keys.  You drive it.
Here are some examples of my work:
Nancy Bieber and her book Decision Making and Spiritual Discernment – I had the privilege of developing a promotional website from scratch for fellow artist and spiritual friend Nancy Bieber as she published her first book.  Customizing this year's new twenty-ten theme, we quickly agreed on a simple but elegant layout and design scheme.  And we worked well together focusing the text content on what she most wanted to promote – her book and retreat offerings.  Nancy started ahead with great photographs which made the rest a piece of cake – a very cost effective project with a very professional result.   See for yourself!
It Takes A Village Inc – this organization, a service provider of Family Group Conferencing in six Pennsylvania counties, needed a complete overhaul of their web presence. They had been handed an un-searchable image-based site on their first go around, ostensibly from a graphic designer who only knew Photoshop. Using a theme by Factory42, Jubilee Arts redesigned the front page and overall layout, renewed the logo, changed all the colors to match the company's request and added a training calendar and registration form to provide vital updates to their clients, trainees and stakeholders.
IlanaSpace.com – a simple customized WordPress solution for a growing artist business that supports professional dance and mixed-media artists in Washington, DC. While the business needs were basic, the multiple streams required some back-end customization of the menu and page layouts. The result: multiple search-optimized sub-pages alongside a continually updated blog-formatted homepage. The integration of mailing list capture and event features completed the client's initial requirements for this brand new shiny website.  While the design and template were simple with modest customization, IlanaSpace now has a cost-effective home for its amazing offerings.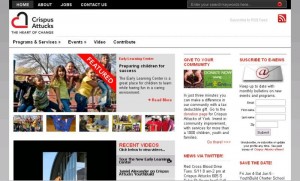 This is the website design and re-build for the Crispus Attucks Association of York, a large nonprofit community center. The design took a custom installation of a Woothemes WordPress template, which worked well to communicate the organizations' multitude of offerings. It also facilitated their fundraising and event promotion goals. The extensive use of plugins and the specialized theme required significant time, but the investment is paying off for an organization providing so many varied services to so many people. They are now able to integrate email newsletters with website updates far more seamlessly and can post exciting visual content, ensuring higher response rates to an array of campaigns and events.
How can you get a beautiful, dynamic and user-friendly website at low cost?
The revolution of open source software has made things simple for all of us. Instead of paying for software, you need only put down a few dollars a month for a slice of server use. Instead of paying for continual expertise, you need buy only the customization of a turn-key system that now anyone can update.
My secret weapon: WordPress.  WordPress was originally developed as a blog engine during the blogging explosion of the past decade.  It's software that runs on a web server (not your computer) and it automates web page writing and updating.   In other words, it allows your website presence to be managed by you via your browser – from basic page updating to blogging to photo galleries to social networking and so much more.  Here's the best part:  it's free.  That's right, WordPress costs nothing.  It's been built by a community of generous, revolutionary developers who continue to innovate it.  You only need to pay for the time and cost to customize it to your needs.
One size does not fit all.  Your needs may be simpler or more complex for what WordPress provides.  And I can build or advise on more basic website designs using good old fashioned HTML or site-builder solutions.   I can also help you with more complex installations that rely on even more data-intensive demands, relying on other open source solutions – Joomla or Drupal. In any case, my services and fees are scalable to your projects' scope.
Contact me for a free consultation. I look forward to exploring ways to empower your voice online.